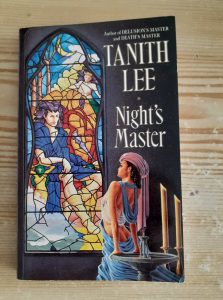 Night's Master (NM) by author Tanith Lee is a dark fantasy adventure. It's the first Tanith Lee book I've read, after it was recommended as a good starting point for Tanith Lee fiction. In the big picture, it's similar to Arabian Nights, with a series of interconnected tales, but revolving around Azhrarn, Lord of Night, Prince of Demons. Azhrarn rules the Underearth and can't surface during the daylight, for fear he'd be destroyed: it's one of the Prince's main weaknesses, but not the only one as the reader will discover.
Azhrarn spends his time in the Underearth creating beautiful palaces to show his magnificence, and playthings in the form of mortals to appreciate beauty and, perhaps, to give our Prince a taste of mortality. There is magic in the depths of the Underearth: the dwarfish 'Drin' hard at work in industry to create valuables and carry out misdeeds on behalf of the Prince. It's clear the Prince is not someone to be crossed, and his favours are not to be taken lightly.
The surface, what we know as Earth, is a playground for devious Azhrarn. If there is one constant in the affairs of mortals, it's that things don't always go to plan. Vengeance begets vengeance. Hate begets hate. Greed conquers all. And, prophecy will come sooner than the mortal thinks.
Praise
NM far exceeded any expectations I may have had from Arabian Nights: fitter for the fantasy reader, digestible without being simplistic, and showing a fascinating evolution in the circumstances of the characters and how this affects magical objects and the world in general. Strongly recommended for the fantasy reader!