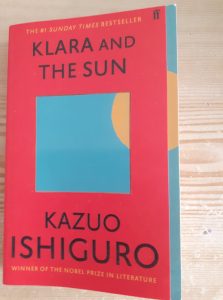 Klara and the Sun (KATS) is a book about artificial friend Klara's experience of the world in a futuristic society where … well, much of it is a mystery for the reader to fathom. Instead of the focus being on natural disaster, space exploration, pandemic, war, alien invasion, or anything else we may fear the future holds, KATS is much more personal – about the intimate connections and their importance in a society that has a different emphasis to ours.
A big part of KATS was Atlas Brookings, but I'm not going to tell you what that is. What I will say is that KATS reminded me of the curiosity apparent in The Hare With Amber Eyes, the initial innocence of Philip Pullman's His Dark Materials books, and the oddness of The Antpod Faction by Alex James (self-plug).
KATS exceeded the non-existent expectations I had, with a richly detailed world, but the last quarter of the book did feel rushed. I'd hoped for more mystery surrounding main character Josie and her situation (not Rick's) and I felt disappointed there wasn't more. That being said, it was a great thing the author didn't spell everything out, and overall KATS was an enriching read.