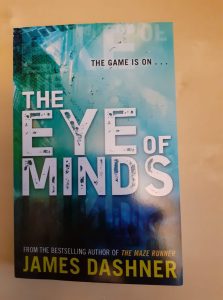 'The VirtNet was a funny thing. It was so real that sometimes Michael wished it wasn't as high-tech. Like when he was hot and sweaty or when he tripped and stubbed a toe or when a girl smacked him in the face. The coffin made him feel every last bit of it — the only other option was to adjust for less sensory input, but then why bother playing if you didn't go all the way?'
Introduction
The Eye Minds (TEOM) is the first book in acclaimed author James Dashner's Mortality Doctrine series about the VirtNet, a game-based internet with unlimited freedom for players, especially, those with hacking skills like Michael and his friends Bryson and Sarah. They plug themselves into a coffin, and wake up in a game that has all the hallmarks of reality – all the sensations and suffering – for serious gamers.
The problem is that an adept hacker is taking people hostage in the VirtNet, pushing them towards the brink of suicide, or otherwise maliciously manipulating for their own ends. The VirtNet already looks less like the haven Michael has come to expect with real-world perils.
Praise, criticism, and comments
I was unsure what the message in the Mortality Doctrine's TEOM was, if there was one. Don't let your children get sucked into games or they'll lose sense of reality, may even die?
On the plus side, TEOM had me flipping the pages. There was always something happening. And my goodness, that first scene with the tangent gave me the spooks. Indeed, there were a number of horror-esque scenes, puzzling for their oddness, not conforming to the reality we know, showing how scary the virtual world could be, given a chance.
One the negative, the scenes were really stop and start. You just get to the action, and then have to stop again, almost bitesize chunks for scenes, suited for more impulsive or younger readers, maybe, with it being YA. Part of the identity behind the main antagonist was predictable.
The ending was not predictable, however. And I felt it was worth my while to reach it after I feared it would end on a cliffhanger. One of the better sci-fi YA reads, reminiscent of Ender's World!