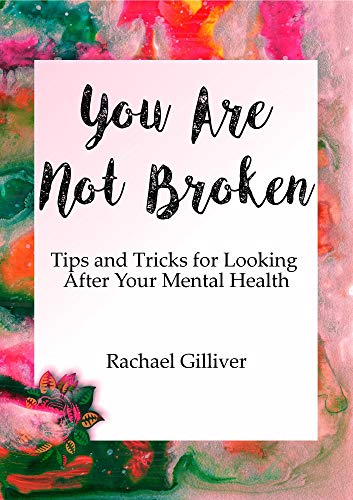 You Are Not Broken (YANB) by author Rachael Gilliver is a statement to get you questioning the mistaken notion that circulates in your mind, for unexplained reasons, that you are broken. The author sets us off addressing the fact that we're not meant to be the exact same as everyone else, whatever our mind tells us or whatever other people tell us.
YANB continues to be a relatable book, after its introductory chapters, about how people with mental health difficulties or diagnoses can confront and then rise above what holds them back, be this judgement, others' expectations, or the past, using words to empower the reader into thinking about what's possible. Sometimes exercises are given to challenge us to think differently, sometimes it's that we just could be told that something else is possible, like YANB's affirmation in prose, to feel better about ourselves.
I appreciated learning about the author's own experience with mental health, which shows us she has been there and done that and has learnt lessons you, the reader, could be facing in your own life. The experience added richness and made it more relatable. I liked the 'Not my monkeys, not my circus' phrase the best!
You will finish reading feeling a few things: that you need to unburden yourself from more things, reassess who has a hold on you in life, go away feeling it's confirmed you got life covered for now, or simply that the book just gave you a lift you needed at that time.