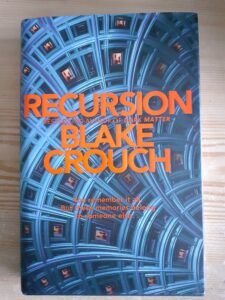 I found Recursion at my library's audiobook website. I thought the premise was interesting and that I'd give it a try. I listened to about half of it as an audiobook and I must say I loved Barry's deep voice. Barry is a character in the book who lost his daughter, and separated from his wife. He works as an NYC cop, sometimes investigating 'False Memory Syndrome' (FMS). FMS started to be portrayed as something on the sidelines in the story but which Barry is soon forced to investigate head on. Helena is the other main character who came across as someone dedicated to scientific research, helping to build a chair (interesting …) to help her mum's Alzheimers, yet she's perhaps someone so buried in her work she doesn't know what's to come, and neither does the reader.
It was intriguing having both storylines side by side, and it was difficult deciding between them both. Sometimes I wanted Barry's to continue and sometimes Helena's, and so it was with minor criticism that the point of view switched too often.
I don't want to say too much about what you can expect from Recursion since that will ruin it, but you're looking at reading a story that is more than you first make it out to be – it's more than something about to be investigated. As far as my 2022 reads go, it must be up there with my favourites for the impact it had on me and the way it gets your mind working in new ways.