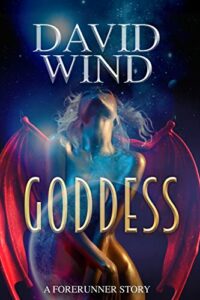 Goddess by David Wind is a sci-fi mystery/thriller – not necessarily your usual first contact or military sci-fi fare. There is the Guild tasked with finding planets suitable for exploration, and when First-In Scout Roke finds one suitable, Anadi, in a vein that looks at first similar to the Alien film franchise, he thinks he's onto a winner.
Yet, you're not reading an Alien film adaptation and it soon becomes clear there is plenty of interesting stuff happening anyway: strange rocks that Roke touches that he relates to dreams, fantasies, he has about this creature that is sometimes in the guise of a beautiful woman, and imaginative creatures that can give you the chills. Both have Roke's senses on alert.
If you're familiar with some of the themes author David Wind writes about you'll notice he's included good powers enriched by ancient earth tradition, and bad powers in new and unsuspecting guises. He's delivering a future Earth in a galaxy where the dangers are far away and yet curiously close to home.
The enemy was introduced to early on, and what helps keep it interesting is that it still feels like we don't really know who she is and what she's capable of, and how Roke is going to use his psi abilities and ancient teachings to block the powers that have rendered his DNA compatible with hers, thus forcing them both to engage in enjoyable, yet compulsive sex, for the purpose of procreation. It's addictive to Roke who must discover how to break free, and how he's going to protect the human race from the same when the Guild decides to investigate.
I must say Goddess was fast-paced with much to keep reader interest. There weren't too many sex scenes; they showed Roke's struggle for his own mind and his motivations. I was intrigued where the story was going and how the new race would unlock the secrets of the universe.