Have you been writing more than one book or series at a time, perhaps to give yourself a break? If you have, it's easy to get confused about the focus of each book or at least to understand why you write about specific themes in one as opposed to the other.
For that reason, I thought I'd make it more clear how I channel my inspiration and differentiate it between my science fantasy Marcellus series and my epic sword-and-planet fantasy Kroll series. In both series, I have a main character and the series is both from their perspective and 'about' them from the perspective of other characters.
Kroll series
The Kroll series is specifically about my difficulties with Asperger Syndrome where they relate to inflexibility of thought, obsession, social inadequacy, and isolation or exclusion. When I understand something new about the problems I face, I write it into the Kroll series. In this sense, the series is a record of the major mental difficulties I have fought or been through, and in the stories it's not always apparent if you are the victor or the loser for undergoing changes in perspective.
The main character Kroll wants to shut out all truths and his acceptance of the outside world that he detests so much, and relies solely on his skills in sorcery to create his own system that his more acceptable to him. His anxiety is over whether he is skilled enough to have the control and satisfaction he desires, both of which are ever changing desires.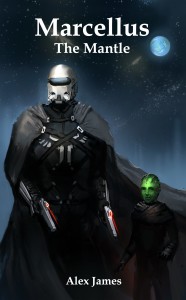 Marcellus series
When I'm worried or concerned about my strengths or weaknesses in comparison to people who don't have Asperger Syndrome, I include it in the Marcellus series. My first book, Marcellus: Origins, focuses on the strengths of naivety and optimism, while the second book Marcellus: Legend focuses on the infectious problems caused by cynicism. The main character Marcellus has anxiety about his differences to the Tekromun around him. He knows he was born as an adult Tekromun in an egg, and never went through the experience of growing up as a young Tekromun or 'tyke'. Marcellus wants to understand his differences and his place on the home-world.
It could be argued that he is not talented, ruthless, or confident. His successes are either attributed to him by others, or exist simply as rumour. As a sorcerer, he cannot unleash overwhelming force or complex spells to achieve his aims, instead relying on his 'humanity' and moral compass to guide his actions, making him slow to fight and react against unscrupulous enemies.
"'The Mantle" is the physical manifestation of Asperger Syndrome'
'The Mantle' is a mysterious cloak: an alien force that besieges Marcellus upon his immediate birth, attaching itself to him for what he fears will be the remainder of his life. He doesn't know what the Mantle is or why it has attached itself to him, but it has made him want to rid himself of it. However, at times he does begin to trust and 'listen' to its powers and how they can help him get out of disastrous situations. At other times, it betrays him.
The Mantle is the physical manifestation of Asperger Syndrome: a constant worry, and major factor in Marcellus' experiences. The Mantle acts, and causes Marcellus to react accordingly. It's like being wrapped in the embrace of a life form that unceasingly flinches or responds before you can, and so informs your responses to both it and the external environment. The external environment is therefore in some way secondary in Marcellus' consideration.
Marcellus is born an adult and can see the Mantle so he knows it exists, while many humans do not know about their Asperger Syndrome until later in life. Sometimes even humans only fully awaken in young adulthood to understand the world around them, particularly experiences and sensations that have been there for a long time.