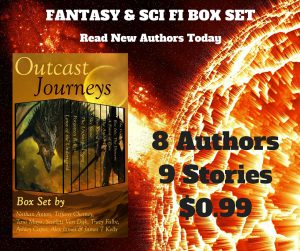 That's right folks, I'm one of the contributing authors to Outcast Journeys, a fantasy box set with an epic twist. You can find my heroic epic fantasy Roc Isle: The Descent in the collection alongside such titles as Leros of the Underworld:The Tournament by Nathan Anton and Rys Rising by Tracy Falbe.
If you're an avid fan of fantasy reads that take you into the conflict zone, battling against huge armies,  searching for the person you know you are, battling good vs.evil, immersed in hellish caverns in dark realms, going on quests with fairies and magical monsters; then look no further than Outcast Journeys.
Outcast Journeys was brought together with authors whose works share the same theme – outcasts going on journeys – and reflects a diverse range of writing talent from the newest and boldest independent voices in fantasy fiction, many of whom have extraordinary fan-bases.
Are you an outcast? Have you ever felt like an outcast in the world, eking out an existence but not necessarily living as you want to. Go on an incredible fantasy journey into the realms of warriors, fantasy beings, and adventurers. Join the struggle to become who you are and to find your place in an ever-changing landscape.
ONLY $0.99!
Preorder before August 2nd  at your favourite retailer and receive Outcast Journeys before everyone else!
Amazon
Kindle US https://www.amazon.com/dp/B01IFKP3JY
Kindle UK https://www.amazon.co.uk/dp/B01IFKP3JY
Kindle AU https://www.amazon.com.au/dp/B01IFKP3JY
Kindle CA https://www.amazon.ca/dp/B01IFKP3JY
Kindle DE https://www.amazon.de/dp/B01IFKP3JY
Kindle NL https://www.amazon.nl/dp/B01IFKP3JY
Kindle FR https://www.amazon.fr/dp/B01IFKP3JY
Kindle IT https://www.amazon.it/dp/B01IFKP3JY
Kindle ES https://www.amazon.es/dp/B01IFKP3JY
Google Play
https://play.google.com/store/books/details/Tracy_Falbe_Outcast_Journeys?id=wFavDAAAQBAJ
Apple iBooks
https://itunes.apple.com/us/book/outcast-journeys-fantasy-sci/id1132254573?mt=11
Barnes & Noble Nook
http://www.barnesandnoble.com/w/outcast-journeys-tracy-falbe/1124079091?ean=2940153116204
Kobo Books
https://store.kobobooks.com/en-us/ebook/outcast-journeys-fantasy-and-sci-fi-box-set-by-eight-great-authors
Smashwords
https://www.smashwords.com/books/view/648407