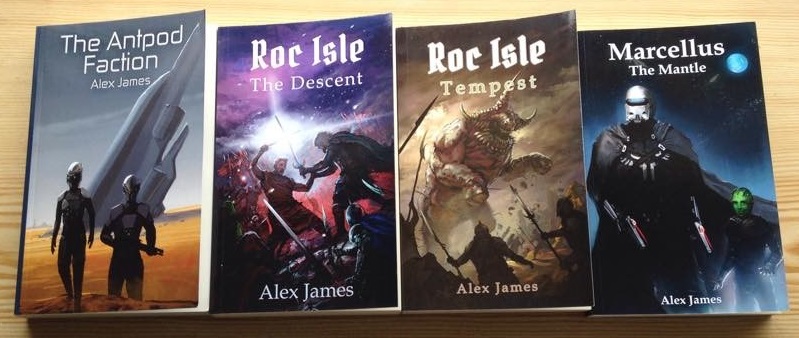 My interest in science fiction and fantasy began when I dropped out of university, having struggled to cope with the group system of learning, among other things. I used to pop down to local libraries to satisfy my intellectual stimulation, picking up books with the nicest covers then seeing if the descriptions struck a chord with me. I discovered Alastair Reynolds, Peter F Hamilton, R Scott Bakker, Drew Karpyshyn, Philip K Dick and Mark Charan Newton. I identified with their stories, opening my interest and imagination, and paving the way for self-discovery and self-expression in the form of writing.
I've been writing since 2009, when I wanted to explore an idea about beings that thought and interacted differently. Originally I wanted to explore neurological differences in the hope of understanding mine. The end result, The Antpod Faction, was a science fiction spy story about unusual antpods that were semi-organic robots, perhaps to show they weren't too robotic and weren't too human either. I decided to publish it in 2012. This was the beginning of my self-publishing journey. When I first started selling The Antpod Faction at stalls I became convinced it was my signature story.
Where writing was concerned I went where my inspiration took me and instead of focusing on a sequel to The Antpod Faction, in 2011 I delved into the heroic fantasy genre because of my fascination with films like 300 and books by JRR Tolkien and R Scott Bakker, publishing Roc Isle: The Descent (2013) and Tempest (2014). I thought there was something to learn on a battlefield where the stakes were high, and where the characters sought to escape from expectation and duty, just as I sought to escape it in reality.
While still in the exploration phase I started writing a peculiar story in 2012 about a galactic war that centred on a leader and his cohort of soldiers. To better understand the idea I linked it with questions. What if this leader had lost his galaxy and had to find a habitable planet? What if he found the Solar System? Would be bring the worst traits of his galaxy with him? Whose side would he be on, ours or his? I finished writing the second half of this story in 2013, and published it in January 2015, with the title Marcellus: The Mantle.
In 2015 I also published a 2nd edition of The Antpod Faction in ebook and paperback because I could improve the organisation of the content and tidy up the language. The 2nd edition is the version you'll see at retailers.